About Us
Proudly serving the Green Mountain State since 1972.
Walker Construction is a Vermont based excavation and concrete company specializing in all aspects of residential and commercial excavation, sitework and concrete construction.
Since 1972, Walker Construction Excavation & Concrete has worked throughout the Green Mountain State on numerous projects, both large and small. Whether it's driveways, commercial buildings, or foundations for new or existing homes, Walker Construction Excavation & Concrete has the skills and expertise to help you meet your construction project goals.
Walker Construction is a registered and fully insured company that is highly recommended by many within the construction and building industry. We offer clients over 40 years of construction, building, excavation and concrete construction experience as well as a strong reputation for professionalism and high quality work and services.
As a company that offers both excavation and concrete services, Walker Construction Excavation & Concrete is able to provide clients with the convenience of receiving one proposal for two trades. Operating in this way allows for a simpler and more streamlined experience for contractors and homeowners alike. We also enjoy working in unison with many of the other great Vermont Contractors on either the excavation or concrete work.
Walker Construction works hard to understand the unique needs associated with each individual project and strives to provide every client with the best overall experience and final product. We are committed to ensuring that every project completed meets the high standards of quality and excellence for which we are known.
We at Walker Construction take pride in our work – it is a reflection of who we are. We are also proud of our contractors' and clients' success, and the fact that we are able to build long-term, mutually beneficial relationships with them. We understand that when they succeed, we succeed.
We hope you'll consider Walker Construction for your next excavation or concrete project and look forward to the opportunity to work with you. If you are interested in receiving a project proposal from Walker Construction, please contact us.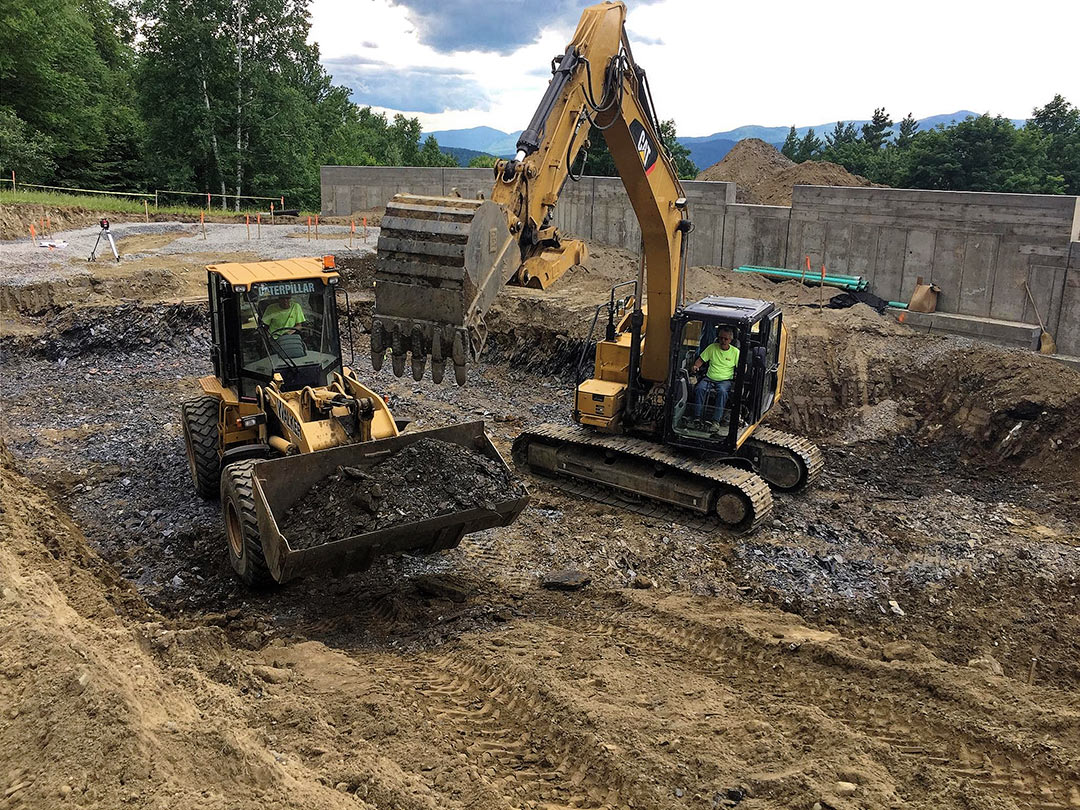 Our History
In 1972, urged by local contractors and friends, David L. Walker started Walker Construction. He began by working out of his home, employing two employees, and started with a $10,000 loan to secure a pickup and concrete forms.
In 1980, he moved his growing operation to our present location off Route 100 in Waterbury Center, VT. During the mid and late 1980's we saw rapid growth in the construction industry in the Burlington area. A boom in the Stowe area soon followed.
In 1987, we diversified into the sitework division.
In 2005, we formed an ESOP and became Employee Owned.
Present day, we now employ up to 70 seasonal employees which are supported by over 100 pieces of equipment and vehicles.